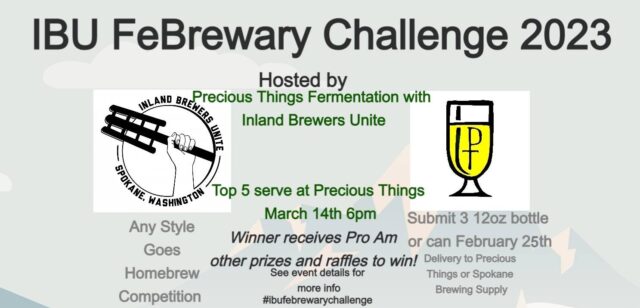 Finalists have been selected for this year's FeBrewary Challenge and now it's time to taste and vote!
The Top 3 beers will be served by their brewers March 14th – 6pm at Precious Things for all to vote on!
The brewer with the most votes will get to Pro-Am brew with Jeff and Candace of Precious Things Fermentation Project.
This will also serve as a Homebrew share event. Please bring out your recent brews or other cool fermentations!
Technically this is a private event for IBU Members. So please check up on yearly dues, as you must be a current member in good standing to attend.
However, friends and family (21+) are welcome to attend by paying a $10 30-Day Membership fee at the door. (Fee includes 1 spouse or significant other.) So if you have friends interested in attending to taste awesome homebrew, please invite them!
We can't wait to see you there!